Instagram is now a huge platform to use for sales and marketing. If you are stuck on how to utilize Instagram for sales without having to use ads, Elise Darma, an Instagram marketing expert, shares how to use the social media channel as an organic sales funnel through her Story Seasons Method.
All consumers go through a customer journey, and Elise breaks down the different stages of the customer journey and how Instagram's features can be used to easily take your customers through this journey.
Story Seasons Method and How You Can Use it for Business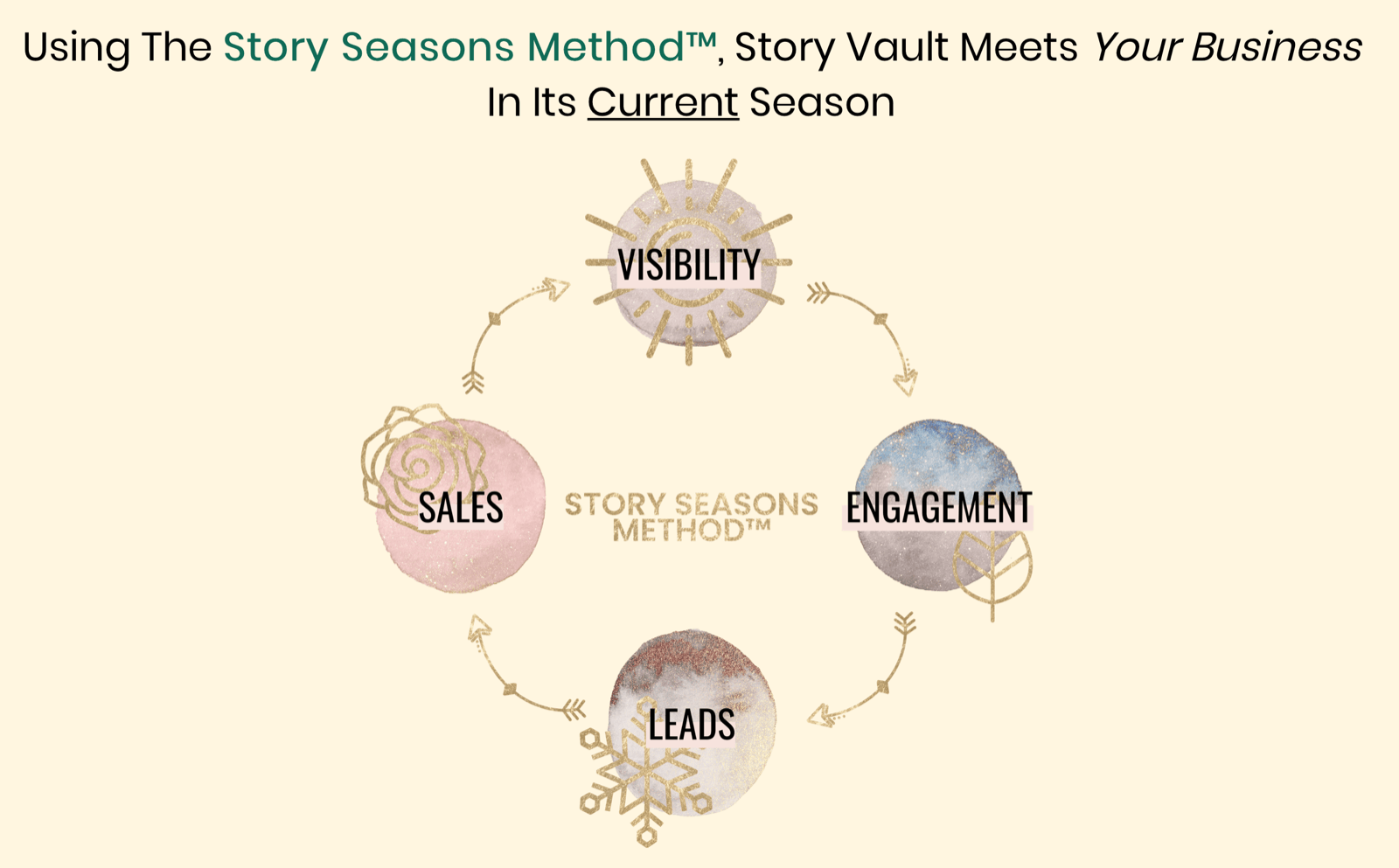 The First Season: Visibility
If you are looking for growth, you're in a season for visibility. In order to increase your visibility, you want to increase your brand awareness. Here are the best ways on how to do so on Instagram and the best Instagram features to use in order to do so:
Create re-sharable content:

Post content your followers would want to repost and DM to their friends. For example, post a relatable quote your followers would want to share with others.

Use hashtags in your stories- you can add up to 10 hashtags in your stories, so research/come up with broad industry-wide hashtags to use in order to gain as much visibility as possible. This will allow people to see your stories even if they're not following you.
Use the mention sticker in your stories to @ an account which is relative to your story, so they have the option of reposting, this will allow more people to see your story!
Use the location sticker in your story and also tag locations in your Instagram posts! If you tag a location in your story, you story will then be added to that location's account's Instagram story. And if you tag a location in your post, your post can come in the "Places" tab on Instagram. By using this location feature, it will allow your Instagram account to pop-up in more places.
Use IGTV! Elise repurposes her Youtube videos as IGTV videos. This allows her to reach her users on both platforms.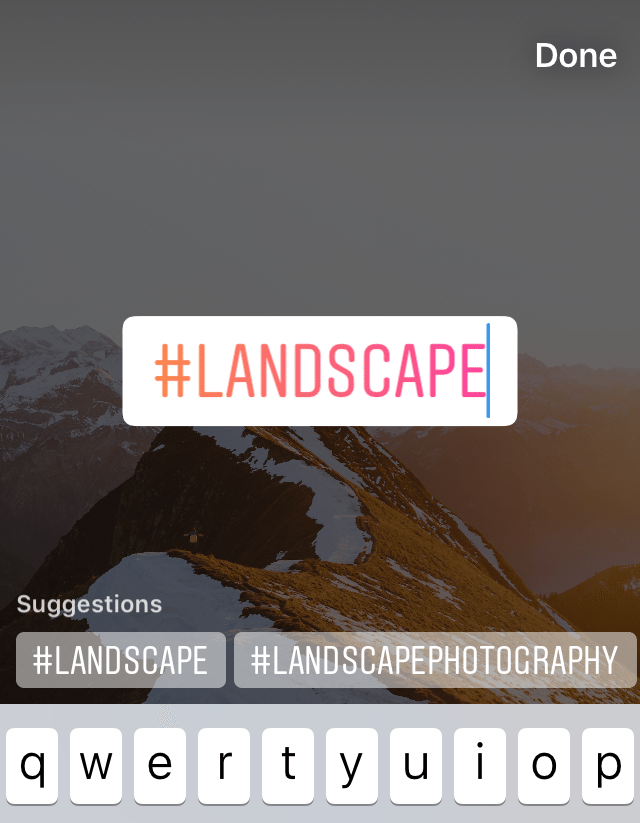 Image sourced from here.
All of these great Instagram features will allow you to increase your brand awareness and following, so make sure you are taking advantage of them!
The Second Season: Engagement
Once you've reach a good, comfortable number of followers, you then need to ask for feedback and generate interest. You may be in a season of engagement if you are wanting to know if people are interested in your product and/or service or you just want to know people's thoughts/opinions. Here's how to increase engagement and get feedback on Instagram:
Include a call to action on your posts. If you're in an engagement season, you want to include a call to action in your post captions. You want to try and get people to save and share your posts in order to generate discussion around it. Elise, for example, will post an informative post others can reference in the future then, in the caption, she'll ask her followers to share with other fellow business owners or mom friends (whoever the audience may be for that post). Through her insights, she then will be able to see how many people saved and shared her post. If a post got a high number of saves/shares, she knows that post is sparking discussion and that is the type of content her followers want to see.
Use the poll and quiz stickers on your stories to get a feel for what your audience likes!
Use the question sticker to ask open ended questions.
Use the countdown sticker to countdown a Live, event, or anything else.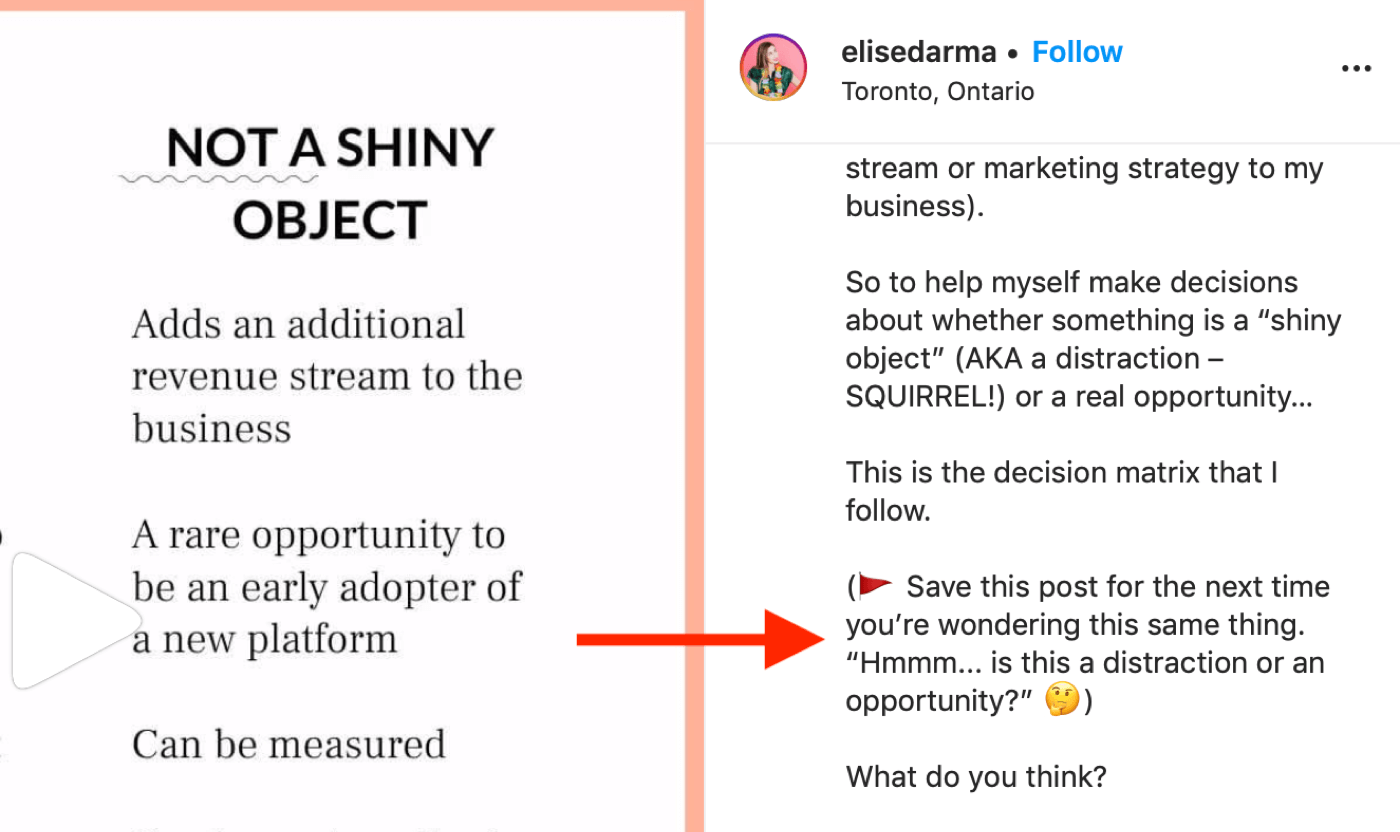 Image sourced from here.
All of these features are great tools to use in order to increase engagement/interest and receive feedback from your followers.
The Third Season: Lead Generation
Once you've gained your feedback, you want to figure out which of your followers are interested enough to take action. Lead generation is a longer season, and is often going on in the background. Here's how to generate leads on Instagram:
Generate leads through your Instagram bio. A great way to do this is to be specific about what people message you. For example, if you sell makeup, you can put in your bio "DM me your favorite lipstick color for a free sample." To see which of your followers are genuinely interested.
Use codes in your bio and captions to track leads. For example, one of Elise's client's said, "DM me 'coffee' for a free add-on your package." By seeing the number of people who messaged him "coffee", he was able to see all the leads he was getting specifically from Instagram.
You can also use the poll option in your stories to generate leads. For example, you can create a Yes or No poll and ask "Who wants a free sample of (your product here)." All of those who answered yes, are your leads. You can then DM them a link to get the free sample.
Image sourced from here.
The Fourth Season: Closing Sales
Closing Sales is usually a short season. DMs are the most effective way to close sales. You always want to include a call to action for people to DM you, this can be most effectively done via stories. Elise likes to do a sequence of three stories to close sales:
Context of what you're about to share
What you're sharing with them "the meat"
Call to action to DM you with any questions/comments- once they DM you, you can then attempt to close the sale.
Other Instagram features you can use to close sales:
The poll and quiz options are great features to use to close sales as well. For example, you can create a quiz of the most common objections to your product/service, and ask "What is stopping you from purchasing?" See what others respond, then send them a DM addressing their concern in hopes to close the sale.
Use the "close friends" list to help close sales. Pinpoint your hot leads and add them to your "close friends" list then you can share stories specifically targeted for them, and also maintain/build relationships with those hot leads through Instagram DM. Let's go back to using makeup as an example. If you sell makeup, let's say there's a new lipstick which came out for you to sell. You can then create a story of the different colors this new lipstick comes in and share it with just your "close friends" list. Since they are already hot leads, this story may lead them into actually buying the product. This will also build more of a personal connection with these hot leads as they will feel special being on an exclusive list, which will hopefully turn them into a customer as well.
Image sourced from here.
No matter what stage your business is in, these are all great resources Instagram has to offer in order to organically generate sales through the platform, so make sure you are taking advantage of these tools! You can learn more about Elise and her courses here.